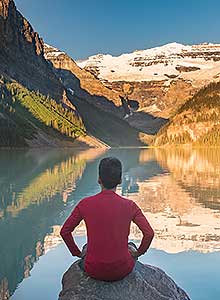 Joy. Happiness. Adventure. Canada.
Canada. Unforgettable
Nature and the great outdoors. History. Arts. Rich Indigenous Culture (First Nations, Inuit and Métis). Multiculturalism. Cuisine. Wine. Everything that comprises Canada, describes Canada. In this edition of The Compass, we're celebrating Canada – East and West, cities and national parks, the uniqueness of the Maritimes and the outdoor wonderland of the Rocky Mountains. And beyond.
Western Canada's National Parks

Travels that defy convention
For all of us at Tauck, Western Canada's national parks hold a special place in our hearts, and in the company's history. It is an understatement to say that Banff, Jasper, Yoho, Kootenay, and Glacier are among the world's most beautiful alpine playgrounds. Majestic, picturesque, vast and historic, they're inspiring and revitalizing. We've got the story – and the videos – inside.
All about the national parks here
The Great Outdoors

Adventure awaits from the Maritimes to the Pacific

There are many definitions of "adventure" – but the essence of adventure is that it is an experience out of the ordinary. The status quo is definitely challenged when it comes to Tauck adventure throughout Canada, from river rafting to floatplanes, rail journeys, polar bear spotting on the tundra, whale watching – even an iconic adventure cruise at the base of Niagara Falls.
Canadian adventure found here

Riding the Rails

Alluring, compelling and just plain fun – Canada by rail

The story of 19th-century Western Canada – the Rockies, national parks and the advent of tourism – is intertwined with the history of the Trans-Canada Railroad. The remarkable rail journey between British Columbia and Alberta left visitors then, and leaves them today, awestruck. Take a look at two of our journeys featuring this route – and an insideTauck presentation on Alberta and Banff.
View our rail travels here
Cosmopolitan Cities of Canada

Montreal, Ottawa, Quebec City, Toronto, Victoria, Vancouver…

Canada's cities appeal to the diversity of interests in each of us – offering a wealth of history, an artistic legacy (from music to literature, art, dance and theatre), cuisine, wine and a look at the multicultural urban face of the future. Join us for a virtual walk through some of our favorite Canadian cities with our Tauck Tour Directors Sydney Holmes, Genevieve Thibault and Felix Audet; learn more about the rivalry between New York City and Montreal bagels, and take note of a famed scone recipe from Vancouver, and discover a little more about these cities than you may have known before:
Take a look here
The Canadian Maritimes

Maritime – in, near, or of the sea

Nova Scotia, Prince Edward Island, New Brunswick – even the names of the three provinces comprising The Maritimes are beguiling. Within their shores they tell the stories of early Canada – of shipbuilding, fishing and the sea; multicultural influences, Acadian to Celtic; and legacies discovered in literature, music, crafts and culinary arts. We've put together a collection of music, videos, and podcasts that provide a closer look at one of our favorite – and first – destinations shared with guests.
Discover more

If You're Ready, We're Ready
Traveling with Tauck
As we head into the final months of 2021, you'll find our collection of journeys and departures through the remainder of the year on our Open For Travel page – be sure to take a look at our latest travel updates, including a vaccination requirement, at tauck.com/travel-and-health. And for 2022 travels, go to tauck.com for up-to-the-minute departure date availability along with all of the details!
View journeys
Musings From Colin's World

Voices From the Road
Colin is a professional journalist with a passion for travel – he has been examining the world of travel all of his life, and he's Tauck's very own roaming reporter. With a view to his own long-awaited return to traveling, he shares his friends' insightful reflections following their return from "the road."
Read more
The post Joy. Happiness. Adventure. Canada. appeared first on The Taucker Travel Blog.