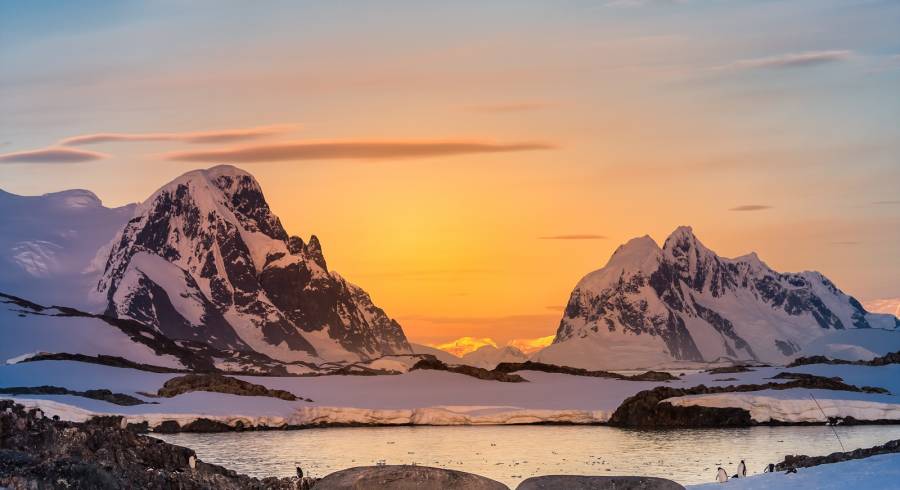 Five Surprising Facts About Our Desert Destinations
Planet Earth certainly is full of stunning landscapes. However, there's something particularly intriguing about desert destinations. While they may seem dry and devoid of life from afar, they're actually some of the most ecologically diverse and environmentally pristine places on earth.
If you want to explore these beautiful desert regions sometime soon, why not learn more about these incredible landscapes before you go? From the scorched red outback in Australia to lofty dunes in Namibia, let us blow your mind with the following trivia about some of the world's most famous desert destinations.
1
The area around Uluru has been home to aboriginal communities for over 30,000 years
Always wanted to visit Australia's Red Center? The barren yet beautiful region may seem like an inhospitable place to live. Nevertheless, it's actually been the home of the country's indigenous aboriginal people for over 30,000 years!
Both Uluru and Kata Tjuta form a huge part of the local aboriginal culture, with many believing they were created at the beginning of time by their ancestors. Famously, the first-ever non-native to glimpse the area's dramatic scenery was Ernest Giles in 1872. Since then, it's been a source of fascination and a major drawcard for travellers from all over the globe.
See exactly why the desert region has such high spiritual importance by organizing a vacation there with help from our trip coordinators. You could even choose to stay at Longitude 131°, a luxurious camping lodge where each tent has unrivaled views of Uluru and nearby Kata Tjuta.
2
For 9 – 10 months of the year, some polar desert destinations have no sunlight
You may have seen photos of ice caps drenched in sunshine in the past. In reality, though, the polar regions' vast expanses of desert (yes, there are cold desert destinations!) actually experience long periods of darkness. That's due to their extreme locations at the very ends of the world. Despite their lack of annual sunshine, polar deserts are some of the driest on the planet, seeing very low rainfall.
Antarctica and the Arctic are on many people's travel bucket lists and it's easy to see why! Sheer cliffs, great white plains, glittering glaciers and an array of wonderful wildlife are all major allures. Trips to either region will let you explore breathtaking polar deserts which are blanketed in solid snow and ice.
For obvious reasons, most polar expeditions occur in those few months when the regions see sunlight. Plan a visit onboard Ultramarine, our brand-new ship which provides guests with a luxury experience as you explore some of the most arid places in Antarctica.
3
The Sahara Desert is almost the same size as China and makes up 8% of the earth's land area
The Sahara Desert is not only one of the best-known wildernesses on Earth, but it's also the largest after the polar deserts. Its swathes of golden dunes account for around 8% of the world's total land area! To put that into perspective, that's equal to the land size of China and just a little bit more than the USA.
To see all those miles upon miles of sand (or at least a small section!) with your own eyes, you have a wide varity of destinations to choose from. The Sahara Desert is spread across 10 countries in Africa, although Morocco is one of our favorite places in which to experience its vast expanse.
Spend some time soaking up the nation's vibrant culture in cities like Marrakech and Fes before venturing out into the desert for a luxury camping stay like no other. Enjoy a private camping experience at Erg Chigaga Desert Camp or slumber among the sand dunes in traditional tents made from camel hide at Merzouga Luxury Desert Camps.
4
The tallest sand dune in Namibia's Sossusvlei Desert is 1,066 feet (325m) tall
A sand dune this tall definitely deserves its own name! 'Big Daddy' is found close to the Sossusvlei Clay Pan within Namibia's Namib Desert and recent measurements place it at over 1,000 feet tall.
Despite its magnificent height, it's actually not the tallest sand dune in the wider Namib desert region. That honor goes to 'Dune 7' which is over 1,200 feet. Nevertheless, 'Big Daddy' is an impressive landmark and it offers visitors spectacular views across the desolate desert landscape from its peak.
Incorporate a hike along the sandy ridge up to 'Big Daddy's' summit on a vacation in Namibia. As well as enjoying safari rides through the country's amazing wildlife parks, you can spend time in the spectacular Sossusvlei Desert and sleep just outside its boundaries at the Desert Homestead or Desert Quiver Camp.
5
The Atacama Desert is one of the best places in the world for astronomy
If stargazing under a canopy of stars is on your bucket list, few places are better for it than the Atacama Desert. The huge area is found in Chile in South America and it stretches out over 990 miles, from the Andes Mountains all the way to the Pacific Ocean.
The clear skies in the Atacama are thanks to its high altitude and extremely dry weather conditions. It's the home of two of the world's top observatories which are both operated by the European Southern Observatory. They have some of the most advanced technology for monitoring and photographing space. There's also special equipment that helps scientists seek out new planets millions of miles away! While you can't stare at the sky from the ESO's telescopes, you will be able to stargaze from the comfort of your accommodation or book onto a stargazing tour during an Atacama vacation. Stay at Tierra Atacama in San Pedro de Atacama and admire the sparkling night's sky from your private balcony or during an after-dark excursion into the desert.
Desert landscapes are transfixing, mysterious and other-wordly. Let our experts plan your trip of a lifetime to discover these desert destinations.
The post Five Surprising Facts About Our Desert Destinations appeared first on Enchanting Travels.