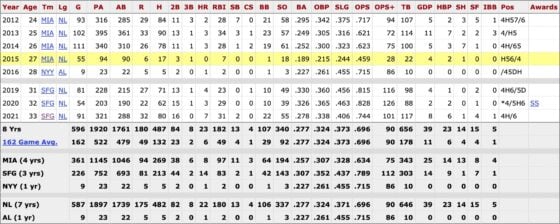 San Francisco Giants are the Most Well-Balanced Team in the MLB
The San Francisco Giants don't just have the best record in the best division, or find themselves at the top of the National League. They have the most Wins of any team in all of baseball this season, despite having the t-24th worst preseason odds entering the season. They've been the most surprising story in the game this year and continue to come through with unexpected wins thanks to a variety of players, not just one or two superstars.
The Giants have hit 201 HR this season, most in MLB.

They haven't led MLB in HR for a single season since 1972.

San Francisco also has 10 players with 10+ HR this season, most in MLB. pic.twitter.com/VuEI8DIULW

— ESPN Stats & Info (@ESPNStatsInfo) September 3, 2021

INTERESTING FACTS

Donovan Solano is the 1st Giants player with a game-tying HR down to their last strike at home in the pitch count era (1988) 
Kevin Gausman is the 1st player

to record a walk-off RBI the day after pitching in a game 

in Giants

 history 

  

San Francisco Giants have the most players (10) in the MLB with 10+ HR during the 2021 season

 
Odds vs. ATL: SFG -165 (O/U 7.5 Runs)

MAIN TAKEAWAY

SAN FRANCISCO GIANTS ARE THE MOST WELL-BALANCED TEAM IN THE MLB 
COLORS KEY | FULL GIANTS OUTLOOK 
The San Francisco Giants have the best record in the league for a reason. However, most teams in this position are usually led by a MVP candidate, yet the Giants likely won't have any player finish in the top-3, or even top-5 in MVP voting this season. Instead, a large part of their success has come from an impressive amount of contributions from less distinguished players. Whether it's Donovan Solano's game-tying shot or even Kevin Gausman's walk-off RBI, someone always rises to the occasion for San Fran. 
The Giants have the most players (10) with 10+ HR among any MLB team this year, highlighting their well-balanced lineup. From top to bottom, they really have no weaknesses and possess one of the best benches in baseball. LaMonte Wade is a perfect representation of this 2021 Giants team. A completely unheralded player six months ago who is now hitting cleanup and playing at a high level for the MLB's No.1 team. The Giants have exceeded all expectations in 2021 and it's because of their extreme balance.