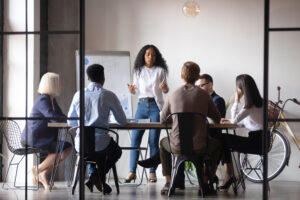 What You May Need To Provide Your Employees With As A New Business
You will be expected to supply your employees with a variety of needs and wants when it comes to operating as a new business.
All businesses will have this requirement, but it will be more relevant to you as you will have no employees to begin with. Consider providing incoming employees with everything they need and more before they first start.
Supporting Mental Health
Something that many businesses have neglected for a long time is the mental well-being of their employees. With times changing, it means that as a new business, you will be expected to support employees through mental health challenges, and not discriminate based on any mental health issues that they may have. You should consider researching mental health in the workplace to find out more.
Providing Adequate Training
When you're a new business, you will likely need to hire a bunch of employees who have no idea about your business. This means you will need to provide them with adequate training so that they are fully prepared to do the job. You could be on the ground floor working with them, or you could hire managers to do that whilst you manage the paperwork.
Either way, it will be important for you to have a workforce that is fully committed and trained to do the job, to satisfy as many customers as possible, whilst also avoiding mistakes. Mistakes could be costly and impact the business in several different ways.
Educating Staff
As well as providing an adequate amount of training for your new staff, it may also benefit you and your organisation to educate them along their career path. This could be through online college courses, or it could be on site with a member of staff who is higher up.
Education can help to guide employees in their career with you, with specific lessons that they could take with them along the way. As a new business, offering education to new employees in some small way is also a great way to attract talented applicants for roles you're trying to fill.
Providing Suitable Equipment
Depending on your line of work, you will need to ensure that your employees have suitable equipment to get the work done. Not only is this a legal requirement that they must meet, but it will also make them feel more comfortable in the role.
For example, if you have employed someone as a builder, and they don't have the tools to build, then they aren't exactly going to be able to do much. Some employers may require staff to already have their equipment, which you should make clear before offering them a contract of offer of employment of any kind.
You should always have basic equipment on hand, in case any employee can't bring anything in for any reason. However, you should still be looking to upgrade equipment as you go to help keep standards high. It will also look more professional for your customer base, as they will see how much effort you put in for satisfaction.
In some lines of work, you may need to provide suitable clothing for employees to get work done. This could be goggles for factories to protect eyes, or masks to prevent excess sawdust from getting into the lungs.
Many industries will require safety boots to get work done. These boots help protect an employee's feet from either something hot or something hard. There will be a few different suppliers you could consider purchasing from, or at least recommending your employees to go to for a certain brand.
One such brand known as Safety Boots UK offers a range of safety boots, work boots, and safety shoes for all types of industrial work. Working with a reputable supplier such as this will help organise your new business, and create a partnership.
Partnerships are important for businesses of any size and shape so that they can operate to their full potential. Even the biggest brands will have suppliers and partners they work with every day in some way, from stock management to computer systems. Consider attending industry events to find what operations could work for you and your business.
Creating Rules And Responsibilities
As an employee, you will need to make it clear to your employees that there are rules and responsibilities in place. This could be known as a code of conduct, which you may need to develop along with the government guidelines and industry-specific demands.
You will need to ensure that your staff are always aware of these rules, which is why you should inform them when they first come in. It will also benefit you to remind them over time, either through training schemes, or meetings. In some cases, your code of conduct may change, which will require you to reintroduce the staff to it, including all the changes.
These rules also help create guidelines for employers and managers to follow. Employment is a two-way street, where you will need to work with employees to create a safe space for them to work so that they are capable of following the rules without hassle or worry.
Abiding By Health And Safety Rules
On a similar scale, you as a new business will need to ensure the workplace meets certain demands for health and safety. These demands are backed by government law, where you need to provide basic needs. For example, you need to ensure that you are not putting an employee in knowing the risk, where they are suitably prepared for any potential issues.
When it comes to the actual workplace, you may need to provide sufficient lighting, such as natural lighting and provide fresh air. You should speak to HR professionals, or consider hiring some so that they can explain the basics of these rules and help work with employees to ensure they are getting everything that they could need.
Perks And Benefits
In some cases, you may need to provide your employees with the means of job benefits, to help convince them to stay working with you. The modern employee doesn't simply want to work to survive, they want to work to enjoy life. That's why many businesses partner up with discount and benefits companies to offer their employees something unique.
Aside from benefits and discounts, some employers utilise a bonus scheme to incentivise employees to work hard during the month, so that they can enjoy a monetary bonus for whatever they choose going forward. These bonuses could come for targets that employees hit, or just loyalty bonuses for staying with the company for a set amount of time.
Job Enrichment And Security
Finally, employees within a new business will feel better about working in a new organisation if they have job enrichment as soon as possible. This means they need to enjoy their working conditions and don't burn out whilst doing so.
In terms of job security, many job seekers may view a new business as a risk, whereas others may see the business as an opportunity to grow with it from the ground up. Either way, you will need to work with these employees to help promote job security and make them feel safe with their job and financial future.
Read more:
What You May Need To Provide Your Employees With As A New Business