The Nature Conservancy's Partners to Preserves program has been awarded a grant through Washington's No Child Left Inside grant program to support bringing 400 youth to TNC preserves across Washington over the next two years.
TNC's Partners to Preserves program works with organizations serving youth to bring their outdoor programs to TNC preserves in Pacific, Jefferson, Okanagan, San Juan Island, Kitsap, Snohomish, Kittitas, Grant, and Douglas counties. Youth will participate in science and learn natural and cultural history, art, hiking, and camping.
"We're thrilled and grateful for this opportunity to expand our program and support youth from diverse communities who are most impacted by lack of access to nature," said Alfonso Orozco, TNC's Volunteer and Outdoor Experiences Manager, who manages the Partners to Preserves program. "Through partnering with organizations already doing excellent work and supporting them in realizing their own goals, we can use our preserves as natural learning platforms for outdoor experiences."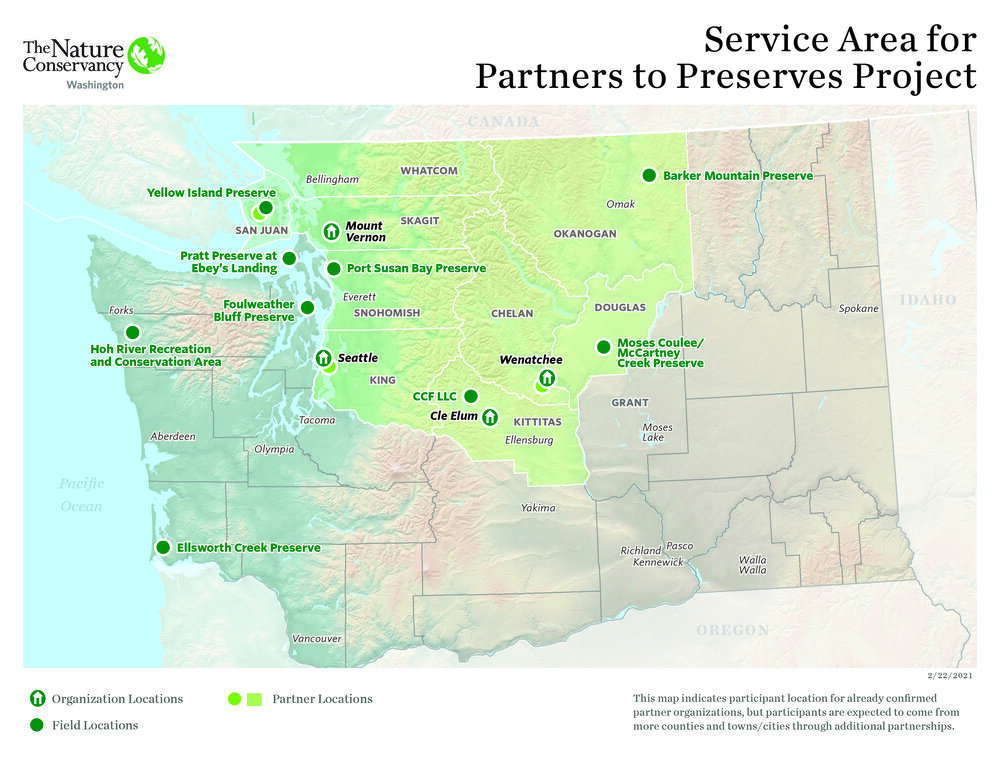 TNC will work with partner organizations World Relief, Team Naturaleza, Kandelia, Coast Salish Youth Stewardship Corps, and others to bring youth to explore and learn about our many Washington preserves. The $63,630 grant, through the No Child Left Inside grant managed by the Washington Recreation & Conservation Office (RCO), will enable TNC to quadruple the number of youth served by the program Orozco said.
"World Relief Seattle is excited to partner with TNC to provide unique outdoor educational experiences for refugee children," said Katie Stoppler, Health and Wellness Manager for the organization which serves refugees and immigrants in the greater Seattle area. "Not only will refugee children have access to the rich and diverse environment in the Pacific Northwest, but these experiences will increase a sense of home and community for our newest neighbors."
The grant will cover transportation, supplies, meals, the development of educational toolkits, and stipends to trip leaders as they bring youth to these preserves: Yellow Island Preserve, Pratt Preserve at Ebey's Landing, Port Susan Bay Preserve, Moses Coulee/Beezley Hills preserves, Hoh River Recreation and Conservation Area, Ellsworth Creek Preserve, Central Cascades Forest and Barker Mountain Preserve.
The state's No Child Left Inside grant program focuses on removing barriers that prevent youth from accessing outdoor experiences and nature-based education. This year's grants will help more than 50,000 kids spend nearly 1.5 million hours outside, doing everything from hiking to kayaking to camping.
Banner photo, Little Brook Youth Corps students participate in a Dirt Corps workshop to learn about the benefits of trees in an urban forest. © Hannah Letinich
---