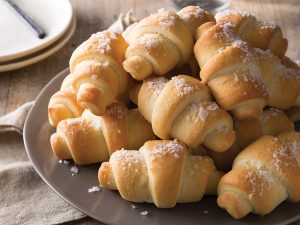 Our Top Thanksgiving Make-Ahead Bakes
Anyone who has ever been tasked with making Thanksgiving dinner knows that prep work is an essential part of the puzzle. Anything that can be made ahead of time, should. Make your life a little easier on Thanksgiving day by making some of these beautiful bakes ahead of time. These bakes can either be made completely and stored, or prepped partially in the days leading up to the big celebration.
1. Pecan Pie Cake
Combining the beloved flavor of a pecan pie with the delicate texture of a 1-2-3-4 layer cake, this cake offers the best of both desserts. Hidden beneath a generous coat of Brown Sugar Buttercream is a moist brown sugar cake and a Pecan Pie Filling that'll immediately call to mind your favorite deep-dish dessert.
2. Crescent Rolls
Is there any roll that sets the scene for a convivial dinner better than a breadbasket piled high with buttery crescents? If you're anything like us, you and the crescent go way back. Dressed up with sea salt, this roll's timeless shape and versatility make it a family favorite as well as a busy baker's go-to recipe. (The dough can be made ahead for a worry-free addition to the dinner table.)
3. Sweet Potato Muffins
These soft sweet potato-packed muffins are complemented by a crunchy oat and walnut streusel while the sweet heat of cinnamon and nutmeg add a cozy level of spice.
4. Creamy Spinach Galette
Fresh baby spinach and an aromatic cheesy crust prove a winning combination in our Creamy Spinach Galette. And, if you're looking for more shareable treats perfect for the holidays, be sure to check out our "Movable Feast" feature in our November/December 2021 issue.
The post Our Top Thanksgiving Make-Ahead Bakes appeared first on Bake from Scratch.